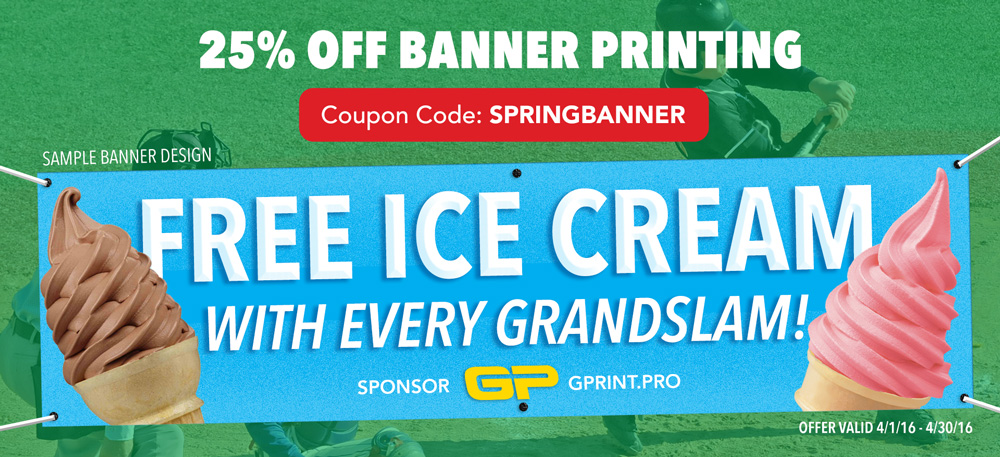 5 Tips for a Great Banner Design
Topic: Digital Printing
Ahhhh spring…time to shed our winter layers and get outside. Spring is also a great time of year to start moving your marketing outdoors, and one sure fire way to do this is with a custom printed banner from Guilderland Printing. Custom banners are an effective, inexpensive, way to get attention. Whether you're advertising a sale, a new business grand opening, an event, or anything in between, custom banner season is hot in the northeast from spring to fall.
To ensure your customers stop and look however, you need an awesome design. To help you along, we've outlined 5 important tips to help you design a great banner. Follow along, or ask us about design help, and you'll reap the rewards.
1. Stay on Point
It's easy to get excited about outdoor advertising to the point that many overdue it. If your business has multiple messages to get out, we think it's best to create separate banners for each message. Outdoor advertising is most effective when your ad is laser focused to one thing. For example, if you're running a sale, your banner should focus on the word SALE making it large and in charge. It's ok to add secondary text along with SALE, but that too should be minimal either with more detail about the sale, your brand, or what the customer should do take advantage of the sale. Too many messages gives you less space on your banner as well as divides the attention of the reader putting you at risk of missing the mark all together.
2. Brand it
Sometimes your banner will be located at your place of business, but often times banners are placed in other areas to draw people to you. Regardless of where you banner is located, it's important readers know who is behind the message. Branding a banner can mean many things, but we recommend good use colors that represent who you are, be sure to use your logo, and use unique graphic styles that represent who you are. You also may consider adding a slogan, or website address if you have enough room.
3. Clutter Kills
We've already suggested you stay on point focusing on one message, but we realize even a single message at times may require a good amount of content. Do your best to streamline the content to be as minimal as possible, then space out what you must have appropriately. Make sure words are not crammed together, and make sure type sizes are appropriate creating emphasis on the right things. If your banner requires a lot of content, consider a larger banner. More space around elements will allow customers to read your message faster. Also, if possible, group different parts of your text separately if they should be read separately. One way to achieve this is to run your text horizontally and vertically.
4. Contrast is King
Banners are typically seen from afar, banners are signage that need contrast to get attention. When you plan your banner design, think about the setting and design around that. For example, will your banner be hung against a brick wall? If so you probably don't want to use a red, or brown background as the banner will blend in rather then stand out.
Contrast can be achieved in different ways, but good use of color is an excellent way to get contrast. Some examples of using color would be to use a solid color background, with large reverse type. Be cautious with color however, too much color can do the opposite and cause clutter.
5. Choose the Right Fonts
Good use of fonts can add feeling to your design, but when selecting fonts be mindful that the single most important purpose of a banner design is to make it readable. If you select a font that you think is perfect, run it by others before you make it final to ensure they can read it. Have them read it out loud to you, make sure they don't stumble or struggle to read anything. The wrong fonts can render your banner useless, so when in doubt use basic fonts and focus on our other 4 tips to ensure your banner will be great.
We hope these tips help you design a wonderful banner, just keep in mind the goal, stay focused on what the banner needs to be, and just do that. Then, when you're ready to print, upload, place your banner print order here and we'll takeout from there. We can't wait to see what you come up with.
Previous Posts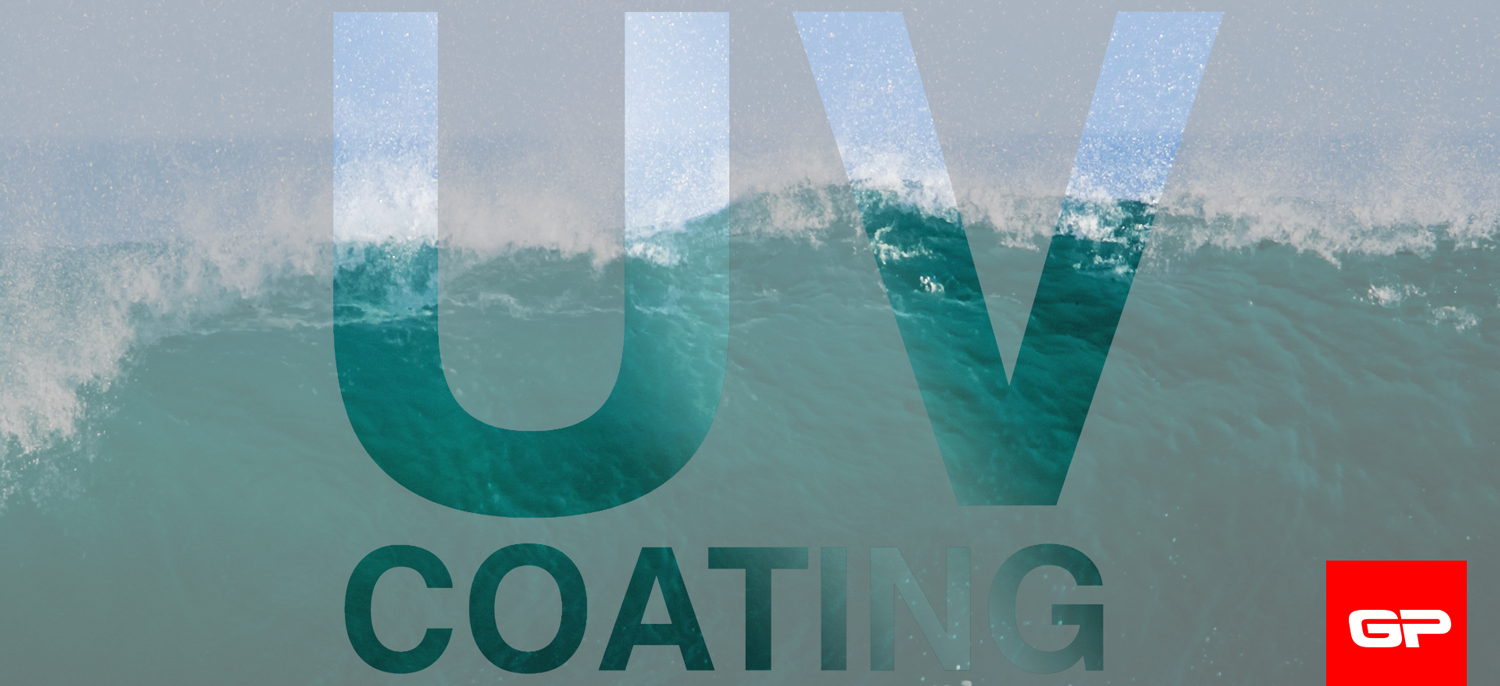 Topic: Company News
Not sure if UV coating is right for your next print job? Take a look at our guide to help you better understand when, and when not to use UV coating. Continue Reading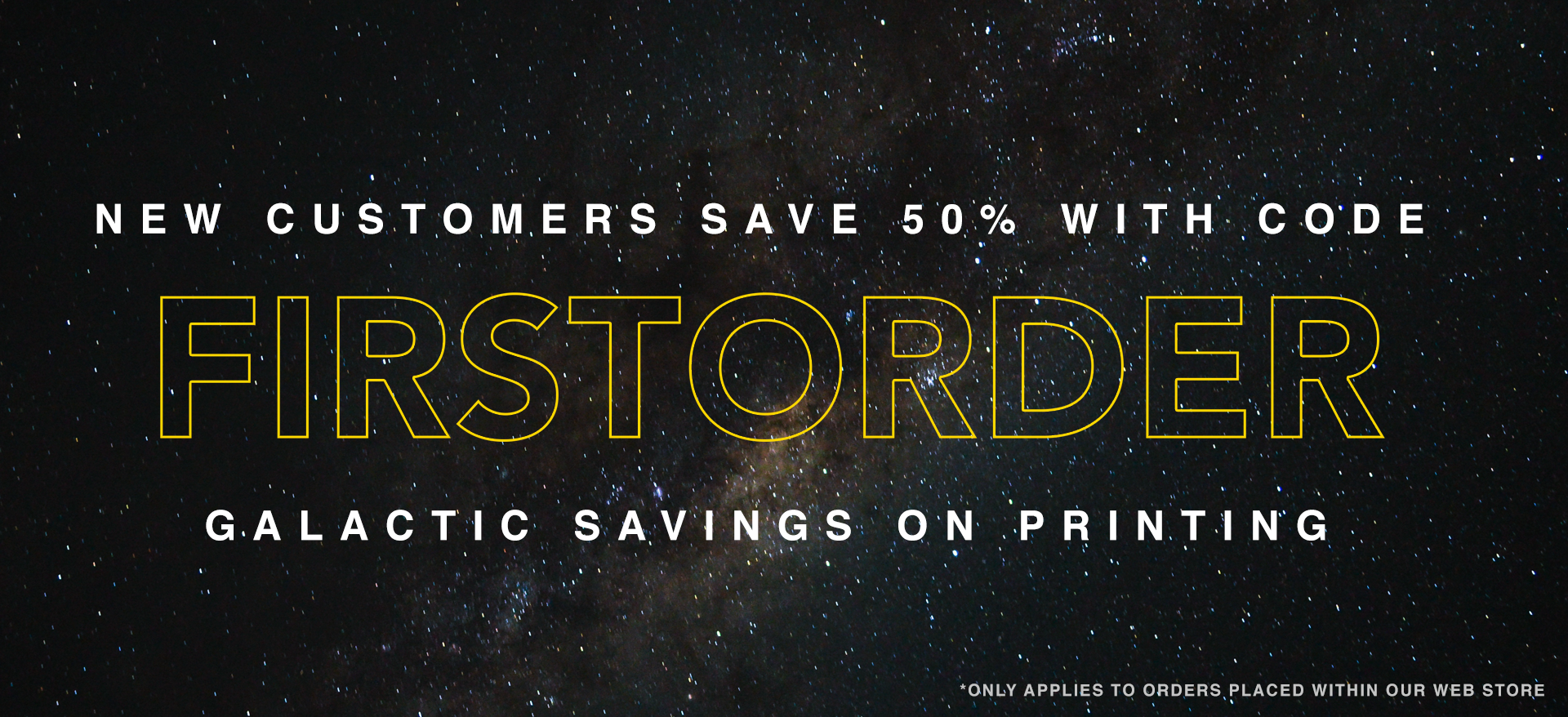 Topic: Company News
Starting today you can save 50% off your printing order when you place your first order on our new website, GPrint.pro. That's no typo, 50% OFF! Continue Reading